Ticket to the Moon Compact Hammock
€50.00
Select these compatible products and save money when bought together with the main product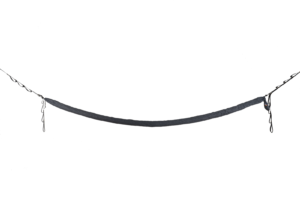 Sleeve for Ticket to the Moon hammocks
Colour Choices


Description
This is a good place to start if you have hammocks on your mind. Just because it's compact doesn't mean it's….er…..mean. It's a full length hammock which hangs well at 3m but it saves a little weight by being 1.5m wide which in the scheme of things isn't that compact at all.
Made from the same synthetic parachute silk as the other hammocks in the Ticket to the Moon range the fabric is soft to the touch, breathable and slightly elasticated which makes all their products so comfortable. The usual high quality can be witnessed in these Compact hammocks with triple stitching, stainless steel S hooks and nautical quality rope.
Weighing just 480 grams it's an excellent hammock to throw in your bag when going out, combine it with the Nautical Quality Rope Kit or the fabulous Moonstraps to have everything you need for a little impromptu hanging out.
Tech Details
Overall length: 3.2m

Length when hung: 3m

Width: 1.55m

Weight: 480g

Capacity: 200kg

Material: Oeko-Tex Standard 100 Skin Friendly parachute nylon.

Machine Wasable: YES

Kid Friendly: DEFO